Protocol Logging with DAV Explorer
---
To aid developers of WebDAV applications, DAV Explorer can log all network protocol activity to a file, capturing all HTTP/DAV requests and responses. To enable logging of HTTP/DAV activity, from the Edit menu, select "HTTP Logging":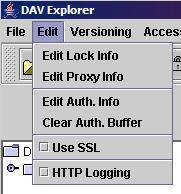 Since uploading and downloading files can cause the log file to quickly grow large, the following warning message is displayed before logging begins: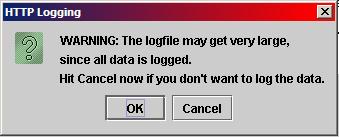 Clicking "OK" will bring up a file selection dialog box. Enter the name of the file that will contain the HTTP/DAV log information, then select "OK". All HTTP/DAV protocol activity will now be logged. Note that logging can be started even before DAV Explorer has connected to a remote server. While logging is active, the Edit menu will show a check mark next to "HTTP Logging":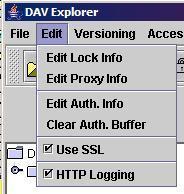 To stop logging, from the Edit menu, select "HTTP Logging" again. This will cause the "HTTP Logging" menu item to be unchecked, and logging will stop.
---
---
| | |
| --- | --- |
| | Last updated: November 21, 2005 |